Fiber Optic Installation Company in Long Island, New York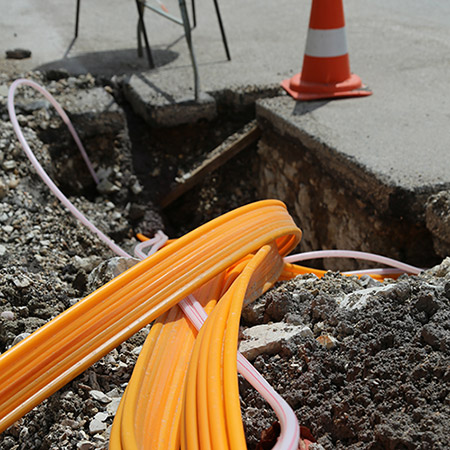 North Atlantic Communication Systems Construction Corp. is a large-scale fiber optic network installation company based out of Lake Ronkonkoma, NY. We work with municipalities, office complexes, college campuses, school districts and more, offering both outside and inside plant installations. Contact us today for a free estimate on fiber installation for your facilities!
Full-Service, Large-Scale Fiber Optic Installation in Long Island, NY
When building contractors and established facilities require fiber optic installation in Long Island, NY, North Atlantic Communication Systems Construction Corp. is their first choice. For decades, we've been providing full-service fiber installations of varying scope and size, ensuring a network that's reliable, scalable and of an unparalleled reliability. Many of our clients have been with us since our establishment. In fact, we take pride in being able to retain clients because of our phenomenal work, made possible by our reliability, dependability and outside-the-box way of thinking. No matter the size or scope of your fiber needs, trust that we'll find a way to ensure your network is installed to perfection.
We define ourselves as a full-service fiber optic contractor in Long Island, NY because of our sheer scope of capabilities. We perform both outside- and inside-plant installations. This means our clients get a comprehensive fiber network installation from the pole, to their data center, to every access point in their facilities. Whether you're developing a site that needs brand-new outdoor cabling laid or you're updating your existing network to the speed and reliability of fiber, North Atlantic Communication Systems Construction Corp. is ready to assist you. See for yourself why we're the most trusted fiber optic network installers in the greater Long Island area:
We've been in business since 1984, with many current clients who have been with us since the beginning!
We have experience in working directly with contractors, municipalities, corporations, educational institutions and more, to provide large-scale fiber installations.
Our business is a New York State Licensed Alarm Installer.
Our service area extends to most of New York City, New Jersey and even Southern Connecticut.
We offer free consultations to all potential clients.
Get a Quote on Fiber Optic Installation
If your business, school or municipal building requires a large-scale fiber installation, get in touch with one of our experienced professionals today for a free quote!
Areas Served
Proudly offering fiber optic network installation in Long Island, NY and the follow areas:
Manhattan, NY
Brooklyn, NY
Bronx, NY
Queens, NY
Westchester County, NY
Rockland County, NY
Newark, NJ
Trenton, NJ
Greenwich, CT